How Do You Qualify for a Visa?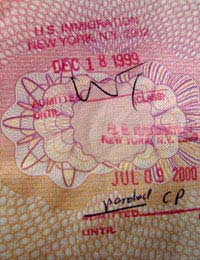 Deciding to move abroad is a huge decision. Many people make it on a whim; others take years deliberating over what to do. Either way you will need to qualify for a visa so that you can legally stay in your new country of choice. There are many different ways to qualify for a visa and these differ greatly dependent on the country you're applying to. Below is a general outline of some of the main visa types and how you can qualify for those.
Family Sponsored Visas
One of the most common visa types across all countries is the family sponsored visa. This visa is usually awarded to someone who already has family living in the country they wish to move to. Family can be classified differently dependent on the country you're moving to. For example, a homosexual couple are considered family in Canada, Australia and other places, whereas they may not be considered family in the USA. For the most part, family is considered close blood relatives although it is possible to apply for a visa on behalf of cousins or other family members. You may be required to be an assurance of support for your incoming relative. This can vary between countries, but it sometimes requires posting a bond to show you can financially support them until they settle. It is also possible for older family relatives to come and live in your new country if you sponsor them. This often requires you to have been living in the country for a certain period of time before applying however. If you have family abroad, this is definitely the way to go to try to obtain your visa.
Spouse and Partner Visa
For many countries in the world, if you marry one of its citizens you will be able to move there. This isn't always as easy as it may seem however and maybe people have problems proving that their relationship is genuine. If you do want to qualify for a partner visa, you should be able to provide evidence that supports your claim that you are a couple. Even having a marriage licence isn't always enough and you will need to show continued evidence of your ongoing relationship. This can be joint accounts, invitations, commitments, family ties and social engagements. Keep a record of these as they may be needed along with family statements to say you're part of a true couple.
Business and Investment Visas
Another way to qualify for a visa is to invest in a business in the country you're hoping to gain access to. There are various ways of doing this and each country has their own specific needs. For some you can simply invest in an ongoing business, in others you are required to bring something new to the country, by setting up your own business. There are other ways of getting a visa through the business route. You can be transferred from your existing place of employment in the UK or you can be sent abroad temporarily to be part of a new branch of the business there. Either way, it can be a costly and timely way of qualifying for a visa and takes a substantial amount of supporting evidence.
Skilled Visas and Employment Visas
If you are considered a skilled individual you may be able to qualify for a visa through your occupation. Many countries require specific skills and will actively seek individuals to fill places available in their workforce. If you are one of these people, you may find that obtaining a visa is relatively easy. You will have your points counted in certain countries and your skills will be assessed. If you reach the correct level across the board, you can get a visa to move, so long as you continue to work in the same occupation. This is an extremely common visa type in countries such as Australia and New Zealand who are desperate to obtain more medical staff and trades people.
Special Category Visas
Qualifying for a special category visa can be difficult as the numbers are very low. They are normally reserved for those individuals with exceptional skills in their field. An example of this would be a writer, athlete, entertainer, scientist or doctor. If you believe you are capable of qualifying for a visa in this category, you may need to prove this and would benefit from the help of a migration agent.
Overall, there are many different ways to qualify for a visa and as long as you don't have a serious criminal record, can back up your application with strong evidence and are of a fit and healthy medical state, you may be a successful candidate for an immigration visa.
You might also like...
I am a British citizen and living in the US currently - I have been for 20 years.We are moving back to the UK in July.My husband is a US citizen and I am confused as to whether or not he needs a visa.My children are covered under me and can apply for British passports up until they are 18.
Britchick
- 14-Jan-16 @ 4:42 PM
Hello, I am 33 and my partner 37. We are from Italy but living in the uk for more than 7 years. We would like to start a family but London has become too expensive and chaotic to raise a child, that's why we are considering moving abroad. Wewe are interested to know what are the possibilities of a brighter future, better quality of life and better jobs prospect. My partner is a freelance photographer and I work as visa officer. We have no criminal records If anyone has any suggestion, will be really appreciate. thank you
bisha
- 12-Dec-15 @ 9:45 AM
@Issy - you can check whether you are eligible to apply via the link
here
. I hope this helps.
EmigrationExpert
- 11-Mar-15 @ 11:54 AM
Hi, I am interested to know if it would be possible for me to work for my sister in laws catering business in Canada. I am british and have my own property in the UK, but looking to sell and possibly invest the money in her business. I would like to work on a temp work visa for her, then in future if all goes well invest my money. As a relative can she employ me. I am 53 and have no criminal convictions. Thank you issy?
Issy
- 9-Mar-15 @ 4:50 PM