Moving Abroad on a Parental Visa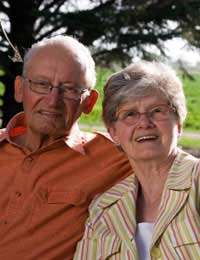 One of the most difficult aspects of moving overseas permanently is leaving behind your family. In particular, many people find it difficult to move away from their parents, especially if they have young families, or their parents are elderly. In these cases, many try to move their parents over to their new home and settle them there along with them. In some countries, this is relatively straight forward, but in many it can be a lengthy process to bring your family across permanently.
Moving Your Parents to Europe Permanently
If you have moved to Europe permanently, you will be pleased to know that as the UK is part of the larger European Union, there is no need for your parents to apply on a special parental visa. European Union citizens are able to reside in other parts of Europe if they wish to, most commonly for a particular period of time before needing to obtain a residency card. Generally this comes from having a job, sufficient funds to support yourself and a base to call home.
Moving Your Parents to the USA Permanently
If you have moved to the US and are considered a US citizen, you may be able to petition to have your parents moved there also. You must be at least 21 years old and a full citizen. Permanent residents aren't able to petition for their parents to move to the US and become permanent residents themselves. If you're applying for your parent and they are currently living outside of the US, the process is:
You must obtain form I-130 (Petition for Alien Relative) from the USCIS. This will need to be filed on behalf of your parents
The date that you file the immigrant visa application for your parents must fall in line with an immigrant visa being available at that time. As parents are considered immediate family, this means that visas in this category are generally immediately available.
When a visa petition is approved and an immigrant visa number is granted, processing must be completed within the US. If your parents are already in the US at the time, they can apply for an adjustment of status which allows them to remain there lawfully as a permanent resident.
There are a number of other alternative visas that may allow entry to the US for your parent, but these should be discussed with a migration agent.
Moving Your Parents to Australia Permanently
Moving your parents to Australia can often be a lengthy and stressful situation. There are only a small number of visas granted each year in Australia that allow parents to move there to be with their children, with around 1000 of those being for the Parent Visa and another 3500 for the Contributory Parent Visa. It is not unheard of to wait around 12 years or more to gain a Parent Visa for Australia.
Australian Parent Visa – This is the standard parent visa. You must be prepared to wait many years for this visa as there are only around 1000 available each year and once this number has been reached no more will be processed. They will be carried over to the next year. You must also ensure that your parent meets the age requirement equivalent to the age needed for a pension in Australia.
Australian Contributory Parent Visa – This is processed quicker than the standard parent visa and incurs a much larger fee. The Contributory Parent Visa can take around 1-2 years to process and your parent will have to pay a fee of around A$26,000 as well as be able to prove a 10 year A$10,000 Assurance of Support bond.
Both visas require the applicants to have the majority of their children living in Australia and they should be either permanent residents or citizens who have been there for some time. The parent must be sponsored by the child, which proves to the government that the arriving parent has accommodation and financial safety for a period of time.
The most important thing to consider when moving parents to a new home is that it's better to start the process as soon as you can. Many countries such as Canada actively encourage children to move their parents over and to unite the family, however there are still relatively lengthy processing times. Speak to a migration agent as soon as you can if you think this is something that you'd like to do in your family. They will be able to advise you further on your specific situation, but remember, as well as time, you'll also need money. Parent visas can be expensive in certain areas, so ensure that you are able to afford it and to provide support to your parents when they arrive.
You might also like...