Buying a Property Before Leaving the UK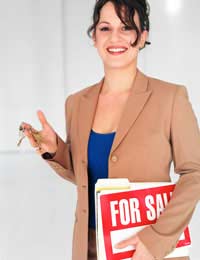 Most people who are considering emigrating decide to sell their home in the UK and purchase a new home in their new country. This has the benefit of providing you with a lump sum of money from the sale as well as tying up loose ends in the UK. There is of course the option of renting out your UK property in case you don't settle in your new country. This means you'll always have security in the UK housing market, but the downside is that you'll also need to pay tax in the UK on any rental income earned there. For many, this can be too confusing and the decision is made to buy a new home abroad.
Buying Property Before Seeing it
One of the most common methods of buying property is online. In recent years, this has continued to grow in popularity and within the ex-pat community, it's becoming an easier way of ensuring you don't lose out on the home of your dreams. This method of securing a property can be filled with pitfalls, but can also be a very rewarding process that allows you to feel 'at home' as soon as you arrive.
The Pitfalls of Buying Before You Go
In the UK it's very unlikely that you'd buy a home before seeing it firsthand. The security of seeing every inch of your home and of checking out the surrounding area before spending any money is integral to making a good purchase. Seeing photographs of a home online or in a local paper doesn't always give the whole picture and the reality can be horrifying.
Another problem can be in trusting the real estate agent who is selling the property. Many real estate agents work with the sole interest of their client in mind, therefore they're likely to tell you anything they think will sell the property. If you decide to build a home, then it's likely that you won't have met the builder or inspected any of their other homes. This in itself can be a very stressful aspect of moving and many people would rather rent on arrival so they can check out homes when they're in their new country. You must also check the legalities of buying a home before doing so. Some countries only allow permanent residents to buy immediately and temporary residents require written permission from the correct governing body.
The Benefits of Buying Property Before You Leave the UK
If you've decided to buy a property before leaving, it can be a very exciting time that will add to your desire to move and get settled quickly. Buying a home before leaving means that you have the opportunity to let friends and relatives in the UK know exactly where you'll be on arrival. It eliminates the stress of having to look for a rental or finding hotels to stay at. Many financial aspects can be sorted out whilst you're still in the UK and the paperwork can be finalised there or on arrival. It is absolutely essential to find a real estate agent or company that are going to work on your behalf. In many countries, real estate agents can act on your behalf if you give them power of attorney. This means that they can sign official papers in your absence and this is often useful if you have time constraints. If you're buying a house and land package where you're having your home built for you, the estate agent will normally recommend a lawyer to deal with the land aspect of the sale. Having a good lawyer working for you to converse with both you and the builder is also integral to a smooth and happy sale. Arriving in your new country with a home to go to or a house build in progress is a fantastic way of helping to make you feel more at home immediately and is definitely worth considering.
Finding the Right Property Before You Go
The best way of finding the property that's right for you is by looking online at the real estate websites of the area and country you're moving to. There are many websites that will direct you to areas that suit you by allowing you to type in the search criteria that you feel will represent you most. Prices vary from country to country, but generally there are many reasonably priced homes that tend to have more features as standard than those in the UK. You'll especially find this to be the case in countries such as Canada, America and Australia. Once you've found the right property, it can be as simple as concluding the sale within 30 days or can extend to a period of months when building. Either way, you'll have made your first big purchase in your new country.
The Simplified Process of Buying Abroad
In order to make purchasing your new home abroad as painless as possible. Keep in mind the following:
Research the area you're buying in as much as possible.
Use reputable online sites or property papers to see what's available.
Find out as much information about the builders or real estate agent as you can.
If you're building, ask to speak with someone the builder has already built for.
Hire a good lawyer to handle the sale for you, where appropriate.
Ensure all local council guidelines, searches and laws are adhered to.
Transfer your money through a reputable transfer company or your bank.
Always ask for receipts of money sent and signed copies of all contracts.
You might also like...
Hi, I would be grateful if you could advise me how to emigrate to Canada on point base scheme. I had been working in the UK Central Government (Civil service) for 13 years as Decision maker/Case worker and Government Policy Reviewer. But unfortunately my department has been disbanded as part of government austerity measure. Now I am looking forward to move to Canada for permanent settlement. Kind regards Mazhar
Mazhar
- 12-Jul-16 @ 11:10 AM