State or Private Health Insurance Abroad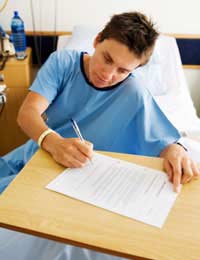 Most people living in the UK have used the National Health Service at some point in their life. For many there are few occasions when the need for private health insurance occurs. The NHS, despite its problems, usually delivers a perfectly acceptable service to the majority of British citizens. When the choice is made to emigrate abroad, it becomes necessary to adjust to a new health service and many countries do not offer free health services to their citizens.
Moving Within the EU
Many countries in the EU will allow you to make use of their health service when you move there as a resident. Within the EU, there are variances on the standard of public health services available. Certain countries such as Switzerland do not have public health services and each individual is required to have private insurance. In countries such as Italy, it is recommended that you take out private health insurance as many areas of the public health service are under-funded and therefore the level of care provided can vary greatly between hospitals. Despite the rumours you may often hear stating that many EU countries don't have a sufficient level of health care, generally they are very good and on a comparable level with the UK. As a UK citizen abroad, you're normally required to register with the local health authority if you're staying there permanently. If you're simply visiting for an extended period, you can use your EHIC (European Health Insurance Card) for up to 5 years. This will allow you access to health services abroad without having to pay extortionate fees.
Health Insurance in Australia
If you decide to move to Australia, you are required to apply for a Medicare card. This is a card that can be used anytime you attend a doctor or require a prescription. The card will entitle you to a greatly subsidised service, or at times an entirely free service. Within Australia, you can use your Medicare card to cut down costs of any hospital fees. You simply send the bill to Medicare to cover some of the costs or use what is known as bulk billing. This is when your doctor doesn't charge you at all at the point of service, but rather sends the bill away for you. You can also buy private medical insurance in Australia to cover some of the services that Medicare doesn't supply. Many people choose to do this, but for some, the cover provided by Medicare is substantial enough that paying for private insurance each month is simply a waste of time.
Health Insurance in the USA
As a British citizen in the USA, there is no doubt that you will be shocked at the price of medical services in comparison to the UK. It is extremely important that you have some kind of medical cover there as bills can run into tens of thousands of dollars for what may seem like a fairly straight forward medical problem. Every time you require a doctor or ambulance, you will need to pay for the privilege. There are problems with this system where your insurance won't cover certain aspects, or you may reach your lifetime insurance limit. These cases are rare and normally you can simply pay the excess about, however, it is a difficult system if you can't afford to pay for the services. Many citizens find themselves struggling to pay off medical bills.
State or Private Health Insurance Abroad
Wherever you choose to move to in the world, always get private medical insurance if you really feel that you can afford it. This way you know that you're covered and don't need to pay large amounts of cash towards medical costs. If you can't afford private medical cover, speak to the various official bodies regarding public health cover and see whether it covers new migrants or temporary residents.
You might also like...
Hi, I'm in the process of purchasing a property in France. We intend to use it as a holiday home initially. On my retirement we intend to move to France and become residents. If the UK leave the EU what implications will this have with regards to residency. We are concerned that we will never be allowed to occupy our house as residents of France. Cappa
Cappa
- 24-Feb-16 @ 12:22 PM
Cappa - Your Question:
Hi,My wife and I are seriously considering moving to France on a permanent basis. We are both under retirement age but intend to live off my civil service pension. My dilemma is-can we buy into the CMU state health insurance scheme or would we have to take private health cover. We don't want to risk purchasing a property to find out that we are not entitled to the CMU. I understand that private health insurance is expensive and unaffordable for us. My wife will look for casual work once we have settled there but again it seems as though employment is very high. Any advice would be appreciatedRegards Al
---
Our Response:
You can find the answers to your questions via the gov.uk site link: Living in France
here
. I hope this helps.
EmigrationExpert
- 6-Jan-16 @ 12:34 PM
Hi, My wife and I are seriously considering moving to France on a permanent basis. We are both under retirement age but intend to live off my civil service pension. My dilemma is-can we buy into the CMU state health insurance scheme or would we have to take private health cover. We don't want to risk purchasing a property to find out that we are not entitled to the CMU. I understand that private health insurance is expensive and unaffordable for us. My wife will look for casual work once we have settled there but again it seems as though employment is very high. Any advice would be appreciated Regards Al
Cappa
- 5-Jan-16 @ 4:31 PM