Defacto and Interdependency Visas for Australia: A Case Study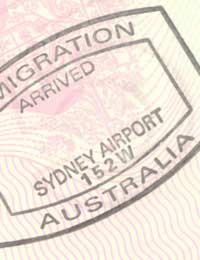 Australia currently has one of the best systems in place for de facto and interdependency visas. With many Australian citizens wanting their loved ones at home with them, the Australian Government has recognised the needs of common law relationships and same sex relationships and has created a relatively straight forward visa to process this move. Our case study will look at two couples who have gone through the process and will outline the similarities between both.
The De facto Visa Couple
Louisa and Havyn have been together as a couple for 2 years. They are unmarried and have no plans to get married at present. Havyn is an Australian citizen who has lived in the UK for 9 years. Louisa is a UK citizen who is now ready to move to Australia with Havyn and start a family there.
Louisa explains that "we felt moving to Australia would be a positive move for us starting a family. The outdoor lifestyle is a great place to raise kids and we wanted to see if we could get a visa sorted out before there were any further immigration changes".
The visa option they've taken is the 'De facto Visa' which is a partner visa suitable for the de facto partner of an Australian sponsor. In order to prove their relationship, Havyn and Louisa needed to:
Provide evidence of their life together and their mutual commitment to the relationship. This includes how long they've been together, how long they've lived together and their feelings about moving forward in their shared life.
Show their joint financial commitments by providing bank statements, credit card bills, shared utility bills and more.
Prove they are in a true and lasting relationship by outlining their shared interests and evidence of shared experiences such as holiday photos, joint invitations and friends and family statements.
De facto relationships must involve the couple living together on a permanent basis for a minimum of 12 months before lodging the application. As Havyn and Louisa had been together for 2 years and only living together for 10 months, this proved to be a stumbling block in their application.
Havyn says that it was a difficult time - "We were devastated, but on speaking to our migration agent, we realised it was only a temporary setback and that if we were patient for just a few more months, the Australian government would view our application differently".
They had to halt their application for another few months before applying and at this stage had all the necessary paperwork required. From the date of applying to receiving the visa for Louisa, the time period was 13 months. This was due to a number of factors, but primarily that they needed to prove they were a genuine couple. Havyn believes that the most important task for them was to get evidence together of their shared commitment to each other, particularly through shared bills.
"We went online and printed out old copies of bills, receipts of payment, statements and more so that we had some form of proof that we had a lot of shared commitments together. I think this really helped our case and we were over the moon when the visa was approved".
The Interdependency Visa Couple
Alex and Scout have been a couple for ten years. Alex is an Australian citizen who has been living in the UK with her British partner Scout for the last eleven years. On deciding to move to Australia, Alex and Scout needed to apply for the Interdependency Visa , which is a visa specifically created for same sex couples.
Alex remembers how they didn't even know there was such a thing as a visa for same sex couples; "We spoke to a migration agent who was extremely helpful and who put our mind at east straight away. We had no idea if there was any provision for homosexual couples and assumed it would be the same as America, where our relationship isn't recognised".
They were pleased to find out that their application wasn't that unusual and was actually similar to the de facto visa. Similarly to Louisa and Havyn, Alex and Scout needed to provide evidence of their shared commitment to each other and their life together. Since they'd been together for eleven years, this wasn't difficult as they had evidence of shared holidays, family events, bills, purchases, utilities and more. As they were applying for an interdependency visa, they had to:
Apply for a temporary and permanent visa in the one application. A temporary visa is generally granted if you meet all the initial criteria and will remain valid until there is a decision on your permanent residency. This is usually after a two year period. If you end your relationship in that time, you must let the immigration department know.
Prove they'd been living together for at least 12 months prior to the application and that their relationship was genuine and to the exclusion of any other individuals.
As Alex and Scout had been together for such a long time and their evidence was so solid, Scout was granted a permanent residency visa immediately. This meant she didn't need to wait the two years to apply when her temporary visa ran out. Generally, if a couple have been in a relationship for over five years and can prove this definitively, there's a good chance that permanent residency will be given immediately. The entire process from submitting their application form to receiving confirmation that the visa had been approved took only three weeks as their case was so solid.
As Scout explains, "We couldn't believe it when we got the visa approved so quickly. The key was to organise everything in advance. We made copies of the entire application including all bills, photos, stat decs and anything else we sent. This meant we had a backup of everything that was there incase there were any hiccups. The Australian migration assistant who was dealing with our case called up, did an interview over the phone and not long after that we were approved. It was really exciting".
If you're planning to apply for a visa on either de facto or interdependency status, learn from the two couples outlined above. Keep all evidence of a shared life together and to mutual commitments and ensure that you are able to prove your relationship in genuine. Both visas require couples to be able to show without question that they have a life together that will continue after they move to Australia. The similarities are numerous and it's a positive step by the Australian government in showing that they welcome all kinds of couples into the country.
You might also like...