New Hand Luggage Regulations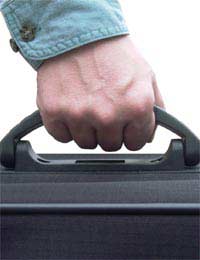 With all the recent changes to hand luggage restrictions and security at UK airports, it can be confusing to know exactly what the laws and regulations are when you travel. Most people who are heading off on flights from UK airports are still a little nervous about knowing exactly allowed to take onto the plane and there are plenty of questions needing answers for most on how the restrictions affect them. If you're one of the people who isn't sure about what you're able to take on flights, the information below should educate you on new hand luggage restrictions and make you confident at the airport.
New Regulations for Airport Security
In January 2008, there were changes made to the existing laws regarding hand luggage restrictions at UK airports. Previous to this time, with the heightened security threat at all UK airports, passengers were only allowed to carry on one item of hand luggage to all flights. Now, this restriction has been lifted from many UK airports , including all the major airports such as Heathrow, Gatwick, Manchester, Glasgow and more. It is advisable to check with the local airport you're flying out with before you arrange your hand luggage however, so give them a call first to ensure no problems when you check in. Individual airlines may also operate different policies regarding carry on baggage to flights, so please if you're still unsure, call them and ask for their advice.
Maximum Size for Hand Luggage on Flights
There is nothing quite so frustrating as showing up to the airport to check in for your flight and being told that your hand luggage exceeds the maximum size allowed in the plan cabin. Many people believe that because they're allowed to take one item of hand luggage, it can be of any size or weight, but this isn't the case. The maximum size for hand luggage is 56cm x 45cm x 25 cm per bag. Often, the maximum weight is 7 kilos, but this may vary dependent on the airline you're travelling with. Again, it's worthwhile checking with the airline before hand as it will save you having to repack items or leave items behind at the check in desk.
Liquids and Air Travel Regulations
If you must take any liquids or creams with you on your flight, it's recommended that you put them in your luggage that will be going in the hold. This includes items such as sprays, gels, pastes, creams , drinks and more. If you have medication that you must have with you on the flight, make sure it has all the information on it and is only the smallest amount you'll need for the duration of the flight. Occasionally essential medicine that is larger than 100ml is allowed, but it must be authenticated. Any liquids, gels, deodorants and other aerosols you may need to take onboard are only allowed in individual containers of 100ml. You should pre-pack them in a see-through freezer bag which is resealable. The bag should be no larger than 20cm x 20cm so it fits comfortably into your hand luggage and can be easily identified by airport authorities. Each passenger is allowed only one of these types of bags so limit the items you're taking and get organised before showing up to the airport. If you do try to take through anything larger than the allowed 100ml, it will be confiscated at the security check point before boarding. Remember that you're allowed to take one lighter per person through security, but of course there's really no need for a lighter on a plane as you can't smoke there anyway.
You might also like...
I am a british passport holder (and South African citizen) returning to the UK after 12 years.Please advise what documentation i might need - when entering the country.Transferring money from UK to South African Bank account - is their a limit.Do i need to go through passport control?Do i need to prove i have money in a South African Bank?Can i register with a doctor to get back on NHS?I have lost my NI card - how do i go about finding out my NI number.Once i have the NI number can i check on my pension in the UK. Please if anyone has any information or advice to make my relocation easier i would appreciate hearing from you. Many thanks
Shan
- 21-Jan-17 @ 10:38 AM