Moving to Canada from the UK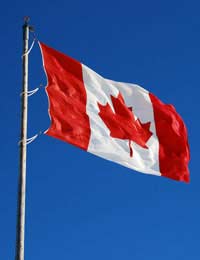 Canada is one of the most popular locations in the world for UK citizens to move to, yet it is often believed to have one of the strictest immigration policies. With it's close ties to the UK, it's ease of access and of course high standard of living, Canada has become a front runner for most British people looking to move abroad permanently. There are a number of different visas available for moving to Canada and in most cases people can find one that is suitable for them.
Points Based Immigration to Canada
If you'd like to apply for immigration to Canada on an independent visa, you can check to see if you're eligible through the points based system. In 2003, Canada changed their points system by lowering it from 75 points to 67. As this is the most popular way of immigrating to Canada, you should plan well in advance if you're trying to get a visa through this method. The points system takes into account the following:
Education – The level of your education will determine how many points you get in this area with a maximum of 25 available.
English and French Language Ability – If you have high proficiency in English and French, this means you can obtain up to a maximum of 24 points
Work Experience – The number of years you've spent in a particular job and at what level can influence your points here. You can obtain a maximum of 21 points.
Age – Your age will have an effect on your application when applying for a Canadian Visa. You can obtain a maximum of ten points here if you're in the 21-49 years old age group.
Arranged Employment – If you have a job waiting for you in Canada this can help your points. You can obtain up to ten points here.
Adaptability – This covers a number of areas from what your spousal level of education is, whether they've studied or lived in Canada or whether they have family in Canada. Ten points in total are available here.
As well as this you will need to be able to show that you have enough funds to look after yourself for a certain period of time. If you have arranged employment however you don't need to prove you have sufficient funds.
Family Visas
There are a few different types of visa available under the family group in Canada. These are:
Canada Family Class Visa – This visa exists so that permanent residents can sponsor one of their relatives to help them move to Canada permanently also. This doesn't require assessment through the traditional points scheme or via work means.
Canada Spouse Visa – If you marry, have a common-law relationship with, or are in a partnership with a Canadian citizen you may be entitled to apply for a Spouse Visa. This is a sponsorship visa where you will be sponsored by your spouse to live there. You spouse must sponsor you for between three and ten years until you are settled and setup fully there in your own right.
Employment Visas
Moving to Canada on a work visa can at times be a lengthy process. They do have certain employment areas that they actively seek individuals from abroad for, but these are often based on a points system or having a job prior to moving. Some of the most common are:
Canada Work Permit Visa – This is a temporary visa where you will move to work with a Canadian company for a set job and period of time. Generally these aren't used to migrate to Canada on a permanent basis, although it can lead to applying for a permanent visa. You will need to be able to fill a position in Canada that local employers there are unable to fill with Canadians.
Canadian Entrepreneur Visa – This visa is a business visa that encourages innovation and investment in Canada through business means. If you have highly sought after business skills or experience, you may apply to live in Canada on this basis as you'll be contributing to the economy.
Canadian Self Employed Visa – Similar to the Entrepreneur Visa, the Self Employed Visa is business based and you can use this to apply for permanent residency. You will need to prove that you have a viable business idea to start in Canada and that you can earn a living doing so and employ Canadians.
Canada Investor Visa – If you have a large amount of capital that you're willing to invest in Canada, you will be able to apply through this route. If you'd like to immigrate to Canada, invest in their economy and use your business skills to have a positive effect there, this is the way to go.
Canadian Experience Class Visa
If you have previously worked in Canada or studied there as a temporary resident, you may be able to apply for permanent residency through the Canadian Experience Class Visa. This visa exists for those individuals to apply for their permanent residency through a priority processing route. As you're already familiar with Canadian customs, culture and way of life, it's deemed that you're a more suitable candidate for permanent residency.
You might also like...
I am from to Wales in the UK I am looking for a job in Canada but I would love to live there for the rest off my life as well
Hello I am trying to find out which jobs are in high demand in Canada for someone wanting to emigrate from UK
Akif1214
- 18-Oct-17 @ 2:39 PM
I am 46 and my husband 39 we have 7 year old twins and would like to emigrate to BC, I have 1 uncle in his 80s and auntie in her 70s living in Canada and 8 1st cousins who now are married and have families (so LOTSS of family) I work in school admin and my husband health and safety he has a degree and I'm educated to NVQ level 4 what are our chances of successfully emigration?
Jj71
- 19-Sep-17 @ 10:08 PM
Hello, i am not sure if i am in the right place to ask this question, but ill give it a shot. I am from the U.K, i am a barber by trade, and have been for the last 10 years, 35 years old and i have just recently had an offer of employment from Toronto Canada to be a barber educator in a barber shop. I was just after some information in regards to what visa i would have to apply for to make the move possible. Any information would be greatly appreciated regards, Chris
chriso
- 13-Sep-17 @ 2:08 PM
Morning We as a family of 4 with two young children are desperate to emigrate to Canada. What are the best trades Canada are looking for ? I am 41 my wife is 42 and I have two children aged 4 and 6. I want a fresh new start and my children to grow in a different country. I have lived in the UK all of my life but I feel its time to move out. How long is the process. where are the best places to live? Appreciate any help you can give.
Nath
- 6-Sep-17 @ 8:53 AM
Hi, My dad was born in Scotland which means I'm eligible for a British passport & wondered if I'm eligible for working visa in Canada if my age is 37. Your help is appreciated. Thanks in advance.
Kim
- 28-Aug-17 @ 10:23 PM
Adam - Your Question:
Hii I have uk citizen I want to move in Canada permanently how I can enter in the Canada please answer me thanks.
---
Our Response:
You can check your eligibility via the link
here
.
EmigrationExpert
- 25-Jul-17 @ 12:33 PM
Hii I have uk citizen I want to move in Canada permanently how I can enter in the Canada please answer me thanks.
Adam
- 24-Jul-17 @ 5:15 PM
My husband (61) and myself (56) are considering emigrating to Canada. My uncle and auntie live in Toronto. My husband has family in Timmins. We both currently work full time. I'm anticipating to be working full time for at least a further 10 years and part time and voluntary thereafter.My husband also anticipates working for a further 6 years full time and part time thereafter. What are chances?
Jacky
- 9-Jul-17 @ 2:45 PM
Hii I have uk citizen I want to move in Canada permanently how I can enter in the Canada please answer me thanks.
Garry
- 6-Jul-17 @ 8:47 AM
Hi please if someone can help my with an information, I have a daughter wich is 6 months old and is british and i am romanian.I really want to move to Canada with her but I don't know what exactly I needed and what chance I have to be accepted.thanks a lot
Larisa
- 21-Jun-17 @ 2:59 PM
Me my husband and 4kids want to move in canada give me a good advise how to move or procedure about settle in canada
Nadira
- 20-Jun-17 @ 5:33 PM
My brother and his wife and two children all are British citizen in uk and now they want to move in Canada ..so tell me what is the best method of getting a permanent residence.
Sukhi
- 9-Jun-17 @ 10:26 PM
I would like to move to Canada for a fresh start
Armaan
- 7-Jun-17 @ 9:37 AM
My partner and I are looking to move to Canada, possibly with a small child, within the next 5 years. He is a landscape gardener and I'm a children's entertainer and voice artist. We'd love to set up a small tourism business in a rural setting. Is there any hope for us? An online form said I'd be eligible for express entry given my experience but I'm not convinced.
Brookhazel
- 24-May-17 @ 6:16 PM
hi, I hope someone might be able to help me, I live in Canada and have PR out here, however I have a son in the UK who is 19, when we applied for PR we had to put him down as uncaptaining due to his Mother would not allow him to come out here (long story there but we are where we are), he would not like to come out here, but I cant seem to find a way to sponsor him for either a work permit or a PR, if anyone has any information that may help both him and myself would very grateful. thanks.
steve1982
- 6-May-17 @ 7:15 PM
Hi my partner is currently Canadian Military Forces.. we are unmarried but want a future together.. i am leaving the british army and pursuing a career as a personal trainer.. what is my best option to apply for permanant residency. Many thanks
Harry
- 4-Apr-17 @ 7:00 PM
I AM DESPERATE TO MOVE OUT OF THE uK SINCE WE ARE DOING bREXIT- i AM NO LONGER HAPPY IN A COUNTRY WHICH BASES ITS ESTIMATION OF A PERSONS WORTH, ON THE COLOUR OF THEIR SKIN- OR WHETHER THEY ARE 'eNGLISH ' enough to stay here.I am a UK citizen, was adopted by a white family at the age of 1 and i have always lived here - although i look asian - in recent years i had a nasty divorce and my twin children who are now 20 and already have degrees because we moved to Scotland for them to get dance qualifications look none English too and have sufferend because of it because of the UK obssession with being white. I am a highly skilled Tutor at three Universities in Sc otland - i am , however, also 55 years old - which obviously gives me a strong age disarvantage. The people I tutor in universities are people with English as a second language- or people sufering from Dyslexia and usually I help them get through degree qualifications with decent marks. I have a tefl qualification - and want to move at some stage ( ideally soon) to a country where i can work in universities or schools as a tefl - or dyslexia tutor - is it at all possible that i might be able to get into Canada? My grown up 20 year old daughter is desperate to move to Canada too and i am wanting to move here , at least in part because i know she wants to - - and as i say - the Brexit was the last straw for me , and a final demonstration of intolerance from the UK that just makes me want out.can anyone tell me what my chances are of getting in? and if in fact i c ould? Debbie MOran
debbie
- 1-Apr-17 @ 11:32 AM
Riz - Your Question:
I am National Account/project manager in one of top ranked media group in UK&ROI and my wife is commercial manager in Railways. we want to emigrate to Canada and need advise as what to do. we both and 3 kids are British nationals.
---
Our Response:
Your only recourse is to go through the link
here
to check if you can apply.
EmigrationExpert
- 24-Mar-17 @ 10:02 AM
I am National Account/project manager in one of top ranked media group in UK&ROI and my wife is commercial manager in Railways. we want to emigrate to Canada and need advise as what to do. we both and 3 kids are British nationals.
Riz
- 23-Mar-17 @ 2:57 PM
Both my sister and my mum are residents in Canada after emigrating a few years ago. How easy would it for me to join them on a permanent basis?
van1690
- 20-Mar-17 @ 4:18 AM
Hi, I work as a Police Constable in Metropolitan Police Service, London, England. I want to move permanently to Canada and do the same job. Is it possible?
Want to migrate to canada as a family. Please help
Mels
- 2-Mar-17 @ 1:05 PM
Say I wanted to move to Canada with 2 friends which Visa would I get? Thanks!
Zanoxen
- 25-Feb-17 @ 3:20 PM
Our family - Your Question:
Hi, my husband and I are serious about emigrating to Canada but have been given contradicting advice. Can you help us with some basic info on what we need to do please? He is a welder and we have 4 children. Thanks
---
Our Response:
You can find out all your need to know via the link
here
. I hope this helps.
EmigrationExpert
- 22-Feb-17 @ 10:58 AM
Hi, my husband and I are serious about emigrating to Canada but have been given contradicting advice. Can you help us with some basic info on what we need to do please? He is a welder and we have 4 children. Thanks
Our family
- 21-Feb-17 @ 2:12 PM
Hi there people just putting this on to see if any1 has been in same boat .im looking to move my family to canada me partner and 3 kids ive worked in construction all my life and im now 38 and wunder about work. If anybody out rhere is similar to me and has made the move id be grateful for any feed back . Thanks.
Kev
- 19-Feb-17 @ 9:45 PM
I'm a fully qualified electrician with a successful business and my partner is a chartered HR consultant, we have property and savings. But I'm 35 and my partner is 30, what is the best approach for us to move to Canada?
brettamean
- 19-Feb-17 @ 5:13 PM
First check the exchange rate if moving large sums UK pounds to Canada it can be very painful !!! Next Canada has many monopolies which make food and drink double UK price so be warned and much else. Canada is NOT the Utopia it makes out so be warned I've lived there and came back UK.
Woody
- 19-Feb-17 @ 1:16 AM
If i study optometry in Uk then what are the possibilities of mine moving to canada after 4 years as course of optometry is 4 years.I want to settle there in canada.
shm
- 18-Feb-17 @ 5:37 PM