Settling Into Your New Life Abroad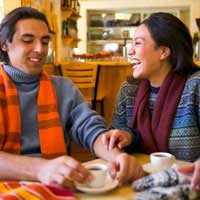 One of the biggest concerns for most people when they move to a new country is whether or not they'll ever 'fit in'. The idea of being an alien in a new place can be so strong a concern for some that they never make the move in the first place. If you've gotten past that stage and have moved abroad, it's time to take a tongue-in-cheek look at whether you've 'gone native' and adapted to life there well.
Talk Like the Natives
One of the biggest barriers for Brits moving abroad is the worry of language barriers causing problems. If you're moving to a non-English speaking country then it may be worthwhile taking some foreign language classes before you move. If you haven't had the chance to do so, don't panic! When you move to a non-English speaking country chances are the locals will be able to speak English anyway, still don't rely on this. Make a concerted effort to learn the local language. It's the first sign that you're settling into a new country, when you can communicate with the locals fluently. Many of us have a strong accent that even other English speakers may struggle with, so before long you'll no doubt find yourself uttering local sayings like you've been living there for years. If you've made the move to Australia, it isn't completely unthinkable that you'll be stating 'she'll be right' and 'no worries' before long. Similarly moving to America may result in you making statements such as 'have a nice day' and calling women 'ma'am'. Don't worry though, this is a good sign for someone who has emigrated. It shows you're easing into the way of life there and are open to becoming like a local. If you're already doing this, you're on your way so far to going native.
Don't Count Your Money
You never see local people checking their money time and again, because having grown up with it they simply don't have to get used to something new. Unlike the new emigrant, locals instantly know what colour or shape a 5 or 10 note is. To really 'go native', try practicing with money in your home - it really does work. Get used to the feel, shape and colour of the individual denominations and you'll soon be shopping like a pro. People will think you've been in the country for years. This idea also applies to using the various types of credit and debit card that you can get in your new country. Get used to the banking there, understand the difference between a savings, credit, or checking account. This comes in handy as not knowing which account your card is for makes you look like a newcomer. If you want to know whether you've really acclimatised, you'll know the difference between cards and money without even having to think about it. Also, you'll have stopped converting everything into pounds.
Learn Your Locale
If someone stops you on the street and asks for directions and you're able to give them, you're making your way towards being considered a native in your new country. Take time out to explore your local surroundings so that you know where things are when people speak to you. Learning the colloquial names for places is also very important as other locals will appreciate that you're adapting to their way of life. Not only does it help to show you're settled, but when you're off travelling your local area, you may discover some places you never knew existing, opening up your social life even further. When the day arrives that you don't have to travel around with a map at the ready or your sat nav switched on, you'll know you're becoming more settled in your new home and that it's on it's way to actually feeling like a 'home' rather than just a new environment.
Understand the Locals
Getting a feel for the locals is probably the most important aspect of settling in your new home. Once you're mixing with the locals and understanding their customs and ways of life, you're definitely closer to being a native. Always try and accept social invitations, especially when you first emigrate, as these can serve as a great way of making friends, but also a brilliant way of getting a better appreciation for how things work in your new home. You'll be able to observe all the local customs and traditions and this will help you settle in and should hopefully make you realise that no matter where you move to in the world, people are very much the same all over.
If you truly want to know whether you've 'gone native', ask yourself whether you can truthfully say you have a full understanding of all the areas mentioned above. If you can, congratulations, you've acclimatised and your new life abroad should be relatively free from culture shock!
You might also like...