New Zealand: Facts and Figures
By: Elizabeth Mugan BA/BSc, PGDipLaw, BVC, CIArb - Updated: 7 Jan 2013
|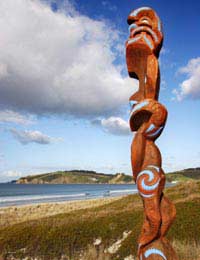 New Zealand is a breathtaking country of rugged coastlines, forests, sweeping beaches and glacier lakes. More and more people are relocating to work and live in this beautiful country. If you're thinking of joining them, here are some useful facts and figures.
Basics Facts
New Zealand is in the South Pacific and is made up of two large islands; the North and South, and several smaller islands. The country is rather isolated, being approximately 2000 miles away from its neighbour, Australia. New Zealanders are often referred to as 'Kiwis', named after the native endangered and flightless bird, which is also an emblem. The three largest cities are Auckland, Christchurch and the Capital City, Wellington.
Local Time and Climate
Local time in New Zealand is 12 hours ahead of the UK. If you emigrate to New Zealand you'll enjoy mild temperatures and many hours of sunshine around the country. It does however, endure high levels of rainfall, which helps to preserve the wonderful landscape. The warmest months are January and February so ensure you wear lots of sunscreen and protective clothing. July is the coldest month and the temperature goes much cooler towards the south of the country.
Currency
The monetary unit in New Zealand is the New Zealand Dollar (NZD), which carries the symbol NZ$. One NZ$ is equal to 100 NZ cents. Notes are in denominations of NZ$5, 10, 20, 50 and 100. Coins were introduced in 2006 and are in denominations of NZ$2 and 1, and 50, 20 and 10 cents. Exchange facilities are widely available throughout New Zealand and cards such as American Express, Diners Club, MasterCard and Visa are widely accepted. Traveller's cheques can be exchanged at trading banks, some shops and large hotels. Take traveller's cheques in Australian Dollars, US Dollars, or Pounds Sterling.
Language
The official language in New Zealand is English, which makes it much easier for people to emigrate from the UK and start a new life in New Zealand. Maori is a second language widely used because the island used to only be inhabited by Maoris before European colonisation.
Water
The water supply in New Zealand is excellent and tap water is very fresh and safe to drink. Any water from the lakes and rivers should be boiled before drinking to avoid an upset stomach.
Animals
There are no dangerous animals or insects in New Zealand, making it a safe place to live and enjoy the many outdoor activities available.
Working Hours
Working hours in New Zealand are very similar to those in the UK. Shops tend to be open 9am to 5pm Monday to Friday, though some are open in the evenings. Some stores are also open on Saturdays and Sundays. Banks however, are only open on weekdays.
Religion and Culture
New Zealand culture is a unique mix of both European and Maori influences. The culture of the Maori people affects the arts, language and accents of the Kiwis. New Zealanders love sports, the outdoors and arts. Religion is largely dominated by Christianity although it is estimated that only about 15% attend church regularly. Over one-third of Kiwis don't have a religious affiliation.
Population Figures
According to 2010 figures, the population of the New Zealand stands at approximately 4.3 million people, compared to fewer than 2,200 people in 1945.
New Zealand's population is made up of approximately 0.99 males to each female.
It is estimated that by 2050, the population of Dubai will have reached 5.3 million.
According to 2006 Census projections, by 2026 European children will make up to 64% compared to 73% in 2006, Maori children will make up 29% from 24% and Pacific and Asian children will rise to 18% compared to 12% and 9% respectively.
Life expectancy was estimated in 2008 as 82.4 for women and 78.4 for men.
At an average of 80, life expectancy is estimated to increase to 85 by 2050.
The unemployment rate in June 2010 was 6.80% compared to 7.8% in the UK.
National Flag
The New Zealand flag is very similar to that of Australia. It is navy blue with the Great Britain flag featured in the top left hand corner, incorporating a representation of the Southern Cross showing the four brightest stars in the constellation, where each star varies in size slightly. The Union Flag in the canton is a remembrance of New Zealand's colonial ties to Britain.
You might also like...