Jobseeker Programme and Emigration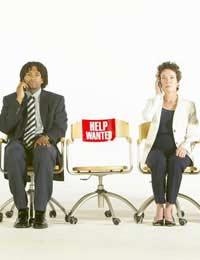 In order to obtain a visa it's often necessary to first secure a job in your chosen country. There are many ways in which you can attempt to do this, although often one of the most secure is to take advantage of the jobseekers programme that certain companies offer. The reward in doing so can range from obtaining professional advice to ultimately securing a job. This can also be used as the basis for your visa application.
How Do I Get In Touch With the Jobseeker Programme?
As someone who is considering emigrating, it's important to obtain as much professional advice and help as you can. Certain countries have high demand occupation areas and are actively seeking overseas workers to fill positions. In particular, countries such as Canada, Australia and New Zealand are looking for individuals who have a particular skill or trade and companies are happy to sponsor the right person for the job. The problem with this is that when you're still living in the UK, you're unlikely to have the knowledge on how to get in touch with these employers, and this is where the jobseeker programme comes in. If you contact one of the main migration companies such as the Migration Bureau, they will put you in touch with their sister employment recruitment company ODG International. They specialize in matching up the right person with the right job. There are other companies available, but they are one of the largest.
What the Jobseeker Programme Can Do For You
If you join the jobseeker programme, you will be given help in securing employment before you leave the UK or before applying for a visa. Often employers will reject international applications if it looks like there will be problems with the applicant obtaining a visa or settling in a new country. The jobseeker programme introduces you to prospective employers and can also develop your CV so that it is suitable for the market of the country you're applying to. This is often seen by employers as a more solid guarantee of your suitability and can add weight to your application. Prospective employers will know that you have already been screened and are therefore extremely serious about your new move abroad. The job seeking company can also provide you with leads that you can follow up on your own, allowing you the freedom of choosing who to contact, but providing you with the information you may need.
Preparing For the Jobseeker Programme
In order to get the most benefits from joining the jobseekers programme, it's important to prepare yourself as best you can. Having an up to date CV that is written in the style of the country you're applying to is tantamount to being taken seriously. Once you've decided on the country and region you wish to move to, you can then start to tailor your job seeking to that area.
You will also possibly need to attend an interview with an employer in your new country as many will not offer employment on an unseen basis. Other responsibilities will include personally sending letters and making phone calls to the companies you've been given details of, and always remember you're generally only going to try to obtain employment around 3 months in advance. Any longer than this can cause problems for your future employer as they may have vacancies to fill before then.
The Next Stage After the Jobseeker Programme
If you've been lucky enough to secure a job, then the next stage is to obtain your visa. By using a professional company and the jobseeker programme, you are already on the right path to obtaining your visa. They can then pass you onto an affiliate who will deal with your visa application and will already know your individual case and details. Remember that in order to secure a job abroad, even through the jobseekers programme, you may still need to take a job with lower wages or at a lower level to begin with. Also, the programme doesn't guarantee a job, but will definitely provide you with better skills and chances to secure a job and thus your emigration to a new country.
You might also like...
I am a 23 year old university graduate. I spent 6 months volunteering at a retreat centre in Colorado in 2015. I loved my time there and miss the community and culture that I became a part of so much, I would love to relocate and work there long term.
Beth
- 2-Jun-16 @ 3:12 PM
My partner has got a job relocation from the UK to the US in Palo Alto. I am moving with her but can only obtain a B2 visa as we are not married. I am an electrician by trade but also renovate homes and would like to look for work for 2 years while we are there in the area. I would need to be sponsored by the company to get a work visa - do you know of any agencies/job seekers who would support immigration job seekers?
alo
- 13-Oct-15 @ 9:13 AM