Teaching English Abroad
By: Elizabeth Mugan BA/BSc, PGDipLaw, BVC, CIArb - Updated: 18 Jan 2011
|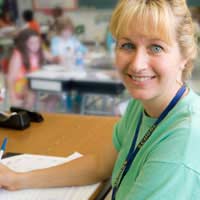 If you're interested in seeing the world and gaining invaluable experience in teaching, then a job teaching English as a foreign language could be the perfect role for you.
Qualifications
If you are hoping to embark on a career in teaching English abroad, you need to start by getting qualified. The essential qualification for those who want to teach in another country is a TEFL, which stands for Teaching English as a Foreign Language. There are a number of TEFL awards which will increase your understanding of English grammar, whilst giving you the essential classroom skills and techniques which will help you to become an effective teacher. Two well known qualifications are the Cambridge Certificate in English Language Teaching to Adults (CELTA) or the Trinity Certificate in Teaching English to Speakers of Other Languages. The best way to find a course is to contact the Association of Accredited English Language Centres to find a school and course to suit you.
Costs
A course can cost a significant amount of money, but it will be cheaper than travelling and will give you a chance to see the world whilst being paid. Courses typically cost between £800 and £1000 if you take a one month long full time course. If you're currently working, there are part time and distance learning options. Whichever you choose, make sure you gain classroom experience, because when you apply, your previous teaching will go a long way to landing you a job!
Job Hunting
Once you've qualified, it's time to get your job! English is one of the most popular languages to learn in the world, so you won't be short of options when it comes to choosing your destination. Jobs are advertised all over the world, you just need to look in the right places. The Guardian, Time Educational Supplement and the Independent all have extensive teaching job sections, and TEFL jobs are advertised here. Many jobs are in independent schools in large cities. The Far East is a very popular location, with the Japanese schools advertising in the late summer months for tutors. They run a Japanese Exchange and Teaching (JET) scheme which provides many placements.
Most roles tend to last for a minimum of a year, so this is a long commitment, but you will get many chances to see the place where you teach. Roles vary in terms of hours, salary and holidays, so it is essential that you check your contract. Some include free flights and low cost housing, but not all.
If you're planning a career in teaching, or you aren't sure what to do after travelling, then it's important to know that employers look very highly on the role of TEFL. You gain extensive skills and knowledge which are transferable across many roles including teaching. The chances are that while you are abroad, you will learn a new language yourself, which is great for certain careers!
Points to Think About
There is a downside to this though. If you stay outside of the country for an extended period, it can affect your entitlements if you ever want to come back to the UK to continue education. Before you go, check how your proposed role and time outside the UK might affect your potential future education. If TEFL is your dream job, you will need to enhance your education with a Masters degree in English teaching to develop in your role.
TEFL can be a hugely rewarding experience, and a brilliant way to see the world and earn money and experience. If you're confident, sociable, travel hungry and willing to learn, TEFL might be the perfect start to the rest of your life.
You might also like...