Official Documentation When Moving to Dubai
By: Elizabeth Mugan BA/BSc, PGDipLaw, BVC, CIArb - Updated: 7 Mar 2013
|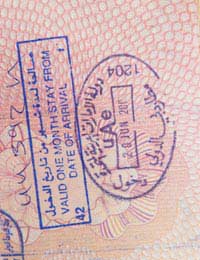 More people are emigrating to Dubai than ever before, as it continues to be one of the fastest growing cities for employment, real estate and tourism. UK citizens are now able to become permanent residents of the United Arab Emirates (UAE) through family, employment, business and investments. Before moving to Dubai, there are many official forms and documents that need to be filled in to obtain your visa. Even once you have landed on Dubai soil, there is still a considerable amount of documentation required.
Residency Visa
When you leave the UK, you may find yourself entering Dubai on a 'holiday visa', which is valid for one month and renewable for one month only with a fee. If you are entering to begin employment, your employment visa is usually handled by your employers. Make sure that all protocols are followed before you leave the UK. For those purchasing real estate in Dubai, you can obtain a residency visa but this will not give you employment rights. If you wish to set up your own business, you will need to speak to the Department of Naturalisation and Residency directly in order to find out what documentation is required exactly.Before you are issued with a residency visa, you will be required to undergo a medical examination. Those testing positive for HIV will be refused entry, as will those tested positive for Tuberculosis (TB) (though anyone tested positive for TB will be allowed entry once treated). Residency visas are valid for a period of two years.
Emirates Identity Authority
It is now a requirement for all UAE residents over the age of 15 to have an ID card. You can print out the application from the website and take it with you to an EIDA registration office. You will be issued with an appointment for biometrics and fingerprinting, before being issued with the ID card approximately 7 to 10 working days later.
Driving Licence
Unless you have a valid international driver's licence as recognised by the RTA office then you will have to undergo training in one of the motoring schools. If you do have a valid licence then you will have to go to the RTA office with your licence, eight passport photographs, your passport displaying your residency visa and your eye test result (taken in the RTA office or local opticians). Only then will you be permitted to drive in Dubai.
Salik
In Dubai, there is an automated toll system in operation, in order to try and ease road congestion. If you own a vehicle, you are required to purchase a sensory tag for approximately 100AED, which attaches to your windscreen.
Alcohol Licence
In order to buy or have alcohol in your possession you must be over 21 years of age and possess an alcohol licence. It is illegal not to have a licence in your possession. Licences are sought from the Dubai Police through licensed liquor merchants and you must take proof of residency, a passport photograph, passport copy and a letter from your employer to obtain one.
Labour Card
It is a legal requirement for you to carry on your person at all times, a labour card. This card means that you are entitled to work in Dubai and is most often obtained by your employer. Make sure that you keep this card on you at all times once you start employment.
Health Card
A health card entitled a resident to subsidised health care at a government hospital and is available for you once you have obtained your residency visa. It is strongly advised however, that you also have private medical care in place.
Once you have these basic but essential procedures and documents in place, you will find it much easier to settle into Dubai.
You might also like...