Food Differences: UK and Egypt
By: Elizabeth Mugan BA/BSc, PGDipLaw, BVC, CIArb - Updated: 2 Jul 2019
|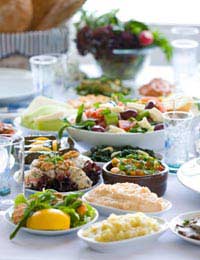 If you love different foods, you might be excited to enjoy the different culinary cuisine served in Egyptian restaurants, or you may hate the thought of leaving the food you're used to back in the UK. Here is a selection of what you're likely to find different and similar to the UK.
Egyptian Delights
Egyptian cooking is delightful and full of fresh fruit and vegetables, natural ingredients and spices. Egyptian cooks using local ingredients have adapted Turkish, Lebanese, Palestinian, Greek, and Syrian traditions to suit Egyptian tastes and budgets. Bread is a big part of the Egyptian diet and comes in several forms. One of the breads is a pita-style bread made from white flour and is sometimes stuffed for a tasty sandwich.
Beans supply the Egyptians with most of their daily rations and are boiled with vegetables and then mashed with tomatoes, onions and spices. This mixture is often served with an egg for breakfast or without the egg for other meals. A leafy, green, summer vegetable, molokhiyya is distinctively Egyptian, and locals will proudly serve you their traditional thick soup made from it. The chopped leaves are generally stewed in chicken stock, and served with or without pieces of chicken, rabbit, or lamb. This soup can also be served with crushed bread or over rice. If you're served it straight, it's polite to dunk your aysh.
Rice and bread form the bulk of Egyptian main courses, which may be served either as lunch or dinner. For most Egyptians, meat is cooked with vegetables and served with or over rice in small amounts. Other popular cuisine includes Torly, which is a popular mixed-vegetable casserole and the Egyptian-style kebab. Kofta is a long bar of ground lamb and onions, which is spiced and often served as a kebab. Pork is considered unclean by Muslims, but is readily available, as is beef.
Pigeons are raised throughout Egypt, and when stuffed with seasoned rice and grilled, constitute a national delicacy but beware as they are occasionally served with their heads buried in the stuffing. Both seagoing and freshwater fish are served as well as bass and sole, calamari, shrimp, eel and scallops.
Egyptian desserts of pastry or puddings are usually drenched in honey syrup. There are pancakes, French-style pastries, rice pudding and semolina pastry soaked in honey and topped with hazelnuts. Umm ali is raisin cake soaked in milk and served hot. Good chocolate is hard to find, though Western-style chocolate bars are starting to become available in shops. Egyptian ice cream is more like ice milk or sherbet than ice cream. Most restaurants serve fresh fruits for desserts.
Grocery Shops
Grocery stores sell many kinds of fresh fruit and vegetables, cheese, and other groceries. Breads and pastries are available in local bakeries. Although you would normally barter in Egyptian shops, prices in grocery stores and bakeries are fixed and are normally displayed in Arabic. If you're unsure about the price hold your change out and the shopkeeper will take the amount for you, as they are generally trustworthy. Some shops do not sell alcohol but if you ask around, you'll be sure to find one that does.
Fast Food Restaurants Similar to the UK
If you're into fast food then you'll find what you need in Egypt, particularly in the biggest cities. You'll find MacDonalds and KFCs with all the same food plus a few different items to suit the natives' tastes. There are also restaurants such as Pizza Hut and Hard Rock Cafe if you're into pizzas and juicy burgers. If you're into other cuisine such as Indian, Lebanese, and Asian food then you can find suitable restaurants too.
You might also like...