Push and Pull Factors in Emigration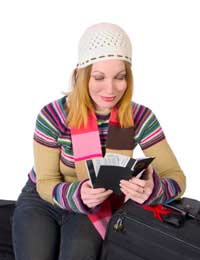 When it comes to the decision to emigrate and start a new life abroad, many people have numerous conflicting emotions and feelings about the prospect of what living in a new environment will bring. No matter how many times you consider all the options, there will be moments of panic, confusion and doubt as to whether you're doing the right thing. One of the best practices to try to quell your fears about emigrating, is to write your own list of push and pull factors, which will hopefully clarify why you are considering moving in the first place. When your list is completed, you'll have hopefully saved yourself some stress in the process and will be able to clearly see why you're considering moving in the first place.
Traditional Push and Pull Factors in Emigration
Traditionally, there are a variety of ways of thinking about emigration, but the terms 'push' and 'pull' were used to explain what may force someone to leave their home country or what may draw them from it to a new country. Incentives that attract people away from home are known as pull factors and circumstances that may help an individual decide to leave their country are known as push factors. In the UK alone, thousands of people each year decide to move abroad for a new life, but many also come to the UK for the same reason. Each individual may have considered their own push and pull factors before taking the leap towards a different future. For some, there is no choice in their migration, as war, famine, political issues, natural disasters force them to move abroad to start a new life. Thankfully in the UK, most people have a choice to move abroad and aren't affected by such extremes, although there are some strong push factors related to people leaving the UK.
Push Factors in Emigrating from the UK
Many people who consider leaving the UK, dream of having a 'better life', or a 'fresh start'. They look at what they have in the UK and often feel that there's more to life elsewhere. Push factors such as having poor career prospects and a lack of employment opportunities can be one of the main reasons that people are pushed from their lives in the UK.
Even for many graduates, job prospects in the UK aren't as promising as they are abroad and therefore many seek alternative paths into the job sector. Countries such as Australia and New Zealand actively welcome certain graduates from the UK, in particular nurses, doctors and others involved in the medical profession.
Along with this, non-educated workers are in high demand – builders, electricians, plumbers and other trades are highly sought after in many parts of the world. These are traditional pull factors to another country and the Government in the UK is well aware that many migrants move abroad simply because of a lack of opportunity here in the UK.
For others, some of the push factors from leaving the UK are related to more personal reasons. People who feel they are under-represented in the UK or have less rights than others, often seek solace in a country that is more understanding to their needs.
Examples of this can be gay and lesbian individuals who do not feel that the UK Government allow them equal rights with heterosexual couples in a variety of areas. They may decide to move to a country that is more accepting and views everyone as equal. Likewise, minority groups may not feel their particular ethnicity is viewed favourable in the UK and choose to move elsewhere to this push factor. For some migrants however, it's as simple as wanting a change and falling in love with another country and there are no real push factors involved in making them want to desperately leave the UK.
Pull Factors in Emigrating from the UK
It is common sense that when considering moving to another country to live, you will have a list of push and pull factors that cement your reasons for considering a move. For most people, the pull list tends to be longer than the push list – the desire to move isn't necessarily a dislike of the UK, but a hope and love that elsewhere will have more to offer.
Some common pull factors include moving to a new country with better job prospects as previously mentioned and along with this, better wages and a better way of life overall.
Higher incomes is one of the main pull factors when moving abroad and if you can combine this with lower taxes, you have a match made in heaven! For people leaving the UK, a consistently popular explanation for their move is that they are seeking 'better weather'.
Every year, people from the UK move to warmer climates, believing that this will improve their way of life overall. This is a strong pull factor for moving to a new country and extends to family reasons also, with many feeling it'll benefit their family to be able to enjoy the outdoor way of life. Other pull factors in emigration are moving to a country that has better political stability, freedom or religious tolerance. Luckily for most in the UK, this isn't a huge issue as it's a democratic state with good provisions for most of it's citizens, but in some cases an alternative way of life is still too tempting to refuse.
The Push and Pull of Emigrating
When it comes down to your own personal decision on whether or not to emigrate, fully consider all the push and pull factors involved. It isn't enough to just feel a push from the UK because you're not happy with one aspect of living there. Generally a combination of various push and pull factors will be the best in aiding your decision to move. Remember, it can be very difficult adapting to a new life abroad, so try and consider all your options before making that leap.
You might also like...
Once accepted on a spousal sponsorship to Canada how long do we have tot sell up and move
Miked
- 18-Jul-18 @ 7:52 PM