Driving in the Middle East
By: Elizabeth Mugan BA/BSc, PGDipLaw, BVC, CIArb - Updated: 7 Mar 2013
|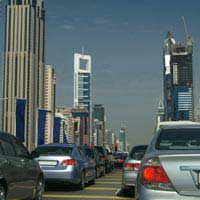 Driving in the Middle East tends to be likened to bumper cars rather than the civilised driving in the UK. This article takes a look at the basic driving rules for three common places where British expats settle.
Saudi Arabia
Driving in Saudi Arabia is a quest with an aggressive driving style on the highways. Driving difficulty is described as moderate.The steering wheel is situated on the right side of the car, just like in the UK but cars should be kept on the right side of the road. Women are not permitted to drive in Saudi, getting either a male to drive their car or travelling by taxis or buses. Males can get a Saudi driving licence without taking a test. If you hold a UK licence, you'll need your work permit (an Igama), a translation of your licence and other required forms. You can drive with an International Drivers Licence for 3 months after you arrive before being required to get a Saudi licence.
Watch for cameras on the streets as the police are waiting to catch you speeding. Stay under the limit to avoid any fines. Pass on the left and stay in the far right lane if you are a slow driver as the right lane is for slower traffic. Use hand and turning signals when you intend to make a left or right, turn around the car, reverse park or for other movements. Watch for pedestrians in the centre of the city, especially at night when many people are out.
Dubai
In Dubai traffic is supposed to be on the right hand side of the road and cars are left-hand drives. Cyclists adhere to the same rules but those carrying boxes tend to drive in the opposite direction, which is said to be to warn the cars of their presence.It is important to look out for animals in the road. Camels are rarely spotted in the cities but they do tend to aim for cars. If you crash into a camel, it is likely to be their owner's prized camel and they will cause substantial damage to your vehicle, which makes them very expensive. Other road animals include donkeys and goats.
It is very important to look out for small children playing football and other Dubai pedestrians as they will attempt to cross roads at the worst times so be alert, especially at night.
Speed bumps vary in size and shape so be wary of going over them at speed. Most are reasonably well signposted but some aren't, especially at night and outside the main roads of Dubai.
Dubai driving rules and laws are fairly standard but are not always adhered to. Dubai police usually deal with minor traffic offences and hand out large fines, however if a traffic offence involves injury and/or significant damage then the penalty will be decided by a court. After some time in Dubai, it will become apparent which rules are important to adhere to. The most serious offences include drinking and driving, with a zero tolerance limit, driving without a licence and making hand gestures whilst driving, all of which can carry a spell in jail.
Qatar
In Qatar, driving is very unsafe. Driving is supposed to commence on the right side of the road, but is generally wherever people feel like. You need to learn defensive and anticipatory driving. Do not trust indicators and assume every parked car is about to pull out into the road without signalling or checking.
Drivers can use an International Driving Licence for an indefinite period. Neither the police nor hire companies however, seem to be aware of this so it is safer to obtain a Qatar licence after the initial 6 months. Most Westerners can change their licence to a Qatar one at the traffic department without taking a driving test but you could still be required to take one. Your licence will last 5 years. All cars need car insurance and a road permit. Additionally, all cars older than 3 years must pass an annual inspection of road worthiness before insuring.
Qatar is increasing the number of speed cameras, including on new roads without visible speed limits. Offences must be checked online at Qatar E-government, where you can pay your fine. Note that additional fines are levied per day for unpaid fines. There is zero tolerance for drinking and driving. You could end up on trial, unable to leave the county, whilst losing your job and accommodation.
Ensure you check the specific country guidance on driving in your chosen country.
You might also like...