Food Differences: UK and Australia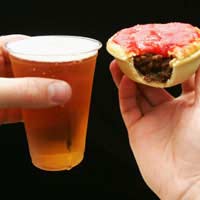 If you're a food lover, moving abroad can be either an exciting time where you are looking forward to tasting all the new culinary delights that await you, or a worrying time where you're concerned about not being able to eat the same food you love in the UK. With the world increasingly becoming smaller through the magic of the Internet, food you love from the UK is never much more than a few clicks away, but it's still nice to know what differences or similarities there are between the UK and where you're moving to. If you're headed down under to live, you'll be surprised at some of the differences between the food there and in the UK, but also pleasantly relieved to find so many similarities
Fast Food in Australia and the UK
If you're a fast food junkie, you'll probably already be aware that most fast food franchises throughout the world are fairly standard the world over. Essentially, the trick with them is that if you order a cheeseburger in a McDonalds in the US, it'll be the same as in the UK or Russia or Japan.
Thankfully, this is still the case in Australia, but there are marked differences between fast food places in Australia and the UK. For instance, in Australia, there will be local items on the menu that you wouldn't get in the UK. You can buy a McOz - a burger with egg, beetroot and salad, or you can buy a McFeast, a Crispy Chicken Fillet burger and a variety of other items you can't get in the UK. Also, for those who love Burger King, don't be disheartened if you think you can't get that in Australia - you can! In Australia, Burger King is essentially Hungry Jacks and the menu and food style is almost identical. You can also get KFC, although in Australia, you'll get the choice of mashed potato and gravy with your meals, similar in style to the American version of KFC. In the UK, this hasn't taken off as much and most people stick with fries normally. When it comes to pizza, there's not that much difference between the UK and Australia. All the major chain restaurants are there such as Pizza Hut and Dominos, although in Australia, it's fairly rare to find a Pizza Hut as a restaurant, they're generally take out and delivery stores only. Australia also has the mandatory Subway restaurants at every turn, Starbucks, Baskin Robbins and more. The menu prices will also impress you generally, as it's a lot cheaper in Australia for take away food than in the UK.
Grocery Shop Differences between Australia and the UK
If you have a particular brand of food that you love in the UK and you're concerned about not being able to buy it in Australia, don't panic! There are generally similar styles of food that will replace those you loved and if you're really adamant about sticking with a familiar brand, then you'll be able to get them normally from specialist shops. Most cities have an import store that will sell goods that have been imported from the UK. Typical items you can buy there are certain crisps, chocolate, tinned food, packet food and even drinks. Most large supermarkets will stock all the usual brands you like though and brands such as Heinz, Oxo, Walkers and so on can be found fairly easily. The trick is to always be open to new things. Try something different and you may find that the local version is just as good, if not better than what you're used to. For Scottish lovers of the 'other national drink' Irn-Bru, you can actually buy this easily in Coles and Woolworth's in Australia. Woolworth's in Australia is more akin to Tesco, Asda or Sainsbury's in the UK, with Big W being similar to what most people in the UK might know as Woolworth's. Coles, BiLo and Aldi are other popular large grocery stores in Australia, so there's no shortage of variety.
Trying New Things Can Be Positive
When you move to Australia, be open to trying new things. There are a wide variety of restaurants in most major cities in Australia - Thai, Vietnamese, Greek, Chinese, Malay, Indian, Italian - all can be found easily and all offer their own delights. One of the most noticeable differences between some of the restaurant food in Australia and in the UK is that many of the Chinese and Indian restaurants in Australia will use chicken thigh meat in their dishes as opposed to chicken breast which is often used in the UK. If this is a problem for you, be sure to specify initially so that you're not disappointed. Many people who have moved from the UK to Australia complain that the Indian food isn't the same as in the UK and this is generally very true.
One of the best ways around this is to buy jars of Pataks sauce from the grocery store and make you own - cheaper and tastes more like the UK versions of curry. Also, you'll probably notice that many Chinese restaurants in Australia and also a lot of take away places will sell items called 'dim sims'. These are almost an institution in Australia and are little Chinese dumplings that can be fried or steamed. They're delicious and definitely worth a try. In fact, trying any food that is considered a local delicacy or standard is a great way to settling into your new country. Don't be afraid to try various types of fish from the local 'fisho', or munching into a dagwood dog (a hotdog covered in batter on a stick). Just try to remember that being in a new place will bring new things, even food, and it's ok to dislike some and long for what you had in the UK now and again. Ideally though, you'll find new food you love in Australia and won't even miss the UK old favourites at all.
You might also like...