Becoming an Australian Citizen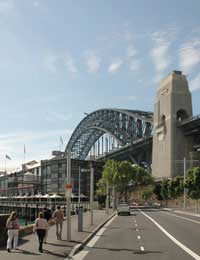 If you've made the move to Australia and have found your new life there to be everything you imagined it to be, you may want to consider becoming an Australian citizen. The benefits of becoming a citizen are numerous, but many people choose to do it for the ability to vote in their new home, to obtain a passport for there and also to simply have dual citizenship. Until October 1st 2007, there was no official test required in order to become a citizen in Australia, only a set of mandatory requirements to be met. However, from that date forward the Australian citizenship test has become necessary if you're hoping to be classed as a citizen.
Why is there a Citizenship Test?
The purpose of the Australian citizenship test has been to develop a deeper understanding of Australian culture, values, tradition and history. Many view it as a way of keeping 'Australia Australian', but the government has made it mandatory to ensure that migrants are fully able to participate in their new community. The aim is to try and promote a sense of belonging, not only for the new migrant, but also for the wider community who are welcoming newcomers to their area.
Who Sits the Citizenship Test?
Anyone who is lodging an application for citizenship after the 1st October 2007 will be required to sit the citizenship test. In order to be eligible, you must be a permanent resident, have proof of identity and be willing to be photographed. Anyone under 18, over 60 or with various disabilities that may make sitting the test difficult, are not required to take one. The tests centres are located in a variety of areas across Australia and all the Departments of Immigration and Citizenship offices will be happy to help you. From November 2007, the tests will be available at selected Medicare and Centrelink locations and many of these are handily found in large shopping centres.
How Do I Prepare for the Test?
The Australian government has provided a free resource book to help prospective candidates study for their upcoming citizenship test. The book entitled 'Becoming an Australian Citizen' has lots of information and practice questions that are similar to those found in the test. The book is available via normal mail by request, or you can download the entire book as a PDF file for free too. By reading the book you're sure to get all the information need to help you pass the test with no problems. You can also take the practice test and the test tutorials on the official government website.
What Happens When I Take the Test?
Taking the citizenship test is a very simple process. You simply arrive at your chosen test centre with identification and you'll be able to sit the test. The entire test consists of only 20 multiple choice questions including three mandatory questions on the responsibilities and privileges of Australian citizenship. In order to pass the test, you must score 60% overall, but the three mandatory questions must be answered correctly to pass. You will be given your results immediately if you are taking the test in Australia and if you've passed you'll be given information on how to proceed from that point. If you've been unlucky and have failed, you'll be given a helpful guide that shows you where you went wrong and what areas of the resource guide you need to study further. You can sit the test as many times as you wish and there's no fee involved in sitting the test.
What Do I Do if I Pass the Test?
If you pass your citizenship test, this means you can then apply to become an Australian citizen. The ceremony for doing so varies from state to state. In some states you can simply go into a registered post office and complete your citizenship there. In others, you're invited to a large ceremony with numerous other people who are going through the same system as you. For an extra special occasion, you could try and finalize your citizenship ceremony on the 26th of January as this is Australia day and often there are large celebrations going on anyway. Whatever happens with your test, it's an honor to be considered a citizen of Australia and of the UK and the test is created not to scare someone away from this, but to give them a better understanding of how life works in a new country.
You might also like...