Understanding Public Holidays in Australia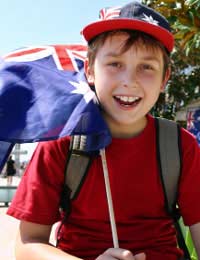 There is a great tradition in Australia that is often joked about by not only Australian's themselves but new citizens and visitors. The great public holiday is a treasured day in Australian culture when hardworking Australian's kick back and enjoy the rest.
Those who live near beaches spend the day in the water or playing the traditional game of beach cricket. City dwellers finally get the time to unravel the BBQ and socialising is an integral aspect of the public holiday.
For those moving from the UK, it's often difficult to get used to when the public holidays are compared to the UK, so we have a handy outline of the important dates in the Australian calendar.
Public Holidays Similar to the UK
Australia shares many common public holidays with the UK. As a country based on similar principles to the UK, Australia considers the Christian holidays as public holidays also.
This means that Good Friday, Easter Monday, Christmas Day and Boxing Day are all public holidays in Australia. Australia's also celebrate New Year's Day, although unlike Scotland, they only have the 1st of January as a public holiday. As well as religious holidays, Australia also celebrate the Queen's birthday. As the Sovereign to Australia, each state chooses when to celebrate her birthday and often they are celebrated on different days.
For example, Queensland may celebrate the Queen's birthday in June whereas Western Australia may not celebrate it until October.
Australian Specific Public Holidays
Australia has a few national public holidays that are a celebration of distinctly Australian dates. Two of the most important refer to significant dates in Australia's history:
Australia Day – Celebrated on 26 January. Australia Day is the day when Australians celebrate the arrival of the first fleet of European settlers to Australia in 1788. The arrival of Captain Arthur Phillips and his fleet at Sydney Cove is still a momentous moment in Australian history and is remembered by a national public holiday. Australia Day is typically celebrated by events and activities throughout the country, including firework displays, concerts, celebrations and of course displaying the Australian flag proudly.
ANZAC Day – Celebrated on 25 April. ANZAC Day commemorates those Australian soldiers who fought in the battle at Gallipoli, Turkey during World War 1. ANZAC refers to the Australian and New Zealand Army Corps and ANZAC Day is a great day of national pride for many Australian's. Although Gallipoli led to a great number of deaths for the soldiers who served there, it is with great pride that many recall the day when the Australian soldiers fought with strength and loyalty in the most dangerous of situations. Typically ANZAC Day is celebrated with war memorial services and other national remembrance events.
State Holidays in Australia
Australia also has a number of state recognised holidays that are on different days dependent on where you live. The most common of these are 'Show Days' where public holidays are held in specific cities or areas so that locals can attend the 'show'. The show is an Australian tradition, especially in some rural areas.
It is a large event where many market stalls, entertainment, traditional farming and other areas of interest are shown. For areas that don't have show holidays, there are often bank holidays in it's place. In Victoria, there is also the Melbourne Cup public holiday which is in November every year.
Working and Public Holidays
As in the UK, if you're employed you're often expected to take the public holiday off and you will generally be paid for this. Some people may be asked to work public holidays, but will be compensated fairly in doing so. Public holidays are definitely a time to be sociable in Australia, so make the most of them!
You might also like...