Driving In Australia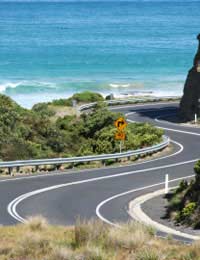 Living in the UK can often make it difficult to drive when going abroad. With most other countries driving on the opposite side of the road it's a welcome surprise to know that Australians drive on the left hand side also. As a new resident in Australia, you are able to drive as soon as you arrive, but like any new country, there are new laws to learn and new road rules to follow.
Driving in Australia on a UK Licence
When you arrive in Australia as a permanent resident, you're able to drive for three months before you have to convert to an Australian licence. Dependent on which state you are living in will vary exactly what you need to do to obtain your licence. If you are staying in Australia on a temporary basis, it is often best to obtain an international licence so that you can use it during your stay. In many states you can drive on your UK licence for up to 12 months as a temporary visitor, after that time you must obtain a local licence. You must always drive the same class of vehicle when you arrive in Australia as that on your UK licence. In some of the largest states in Australia, changing over to a local licence is a straight forward process. The UK is part of an approved scheme where most states will recognise your licence, allowing you to change your licence over easily. This means that all you're required to do is attend a local driving centre and take a knowledge test, once complete you can change your licence over once you've paid the fee. You'll also be required to provide proof of identity, residency and address.
Learning New Road Rules and Local Laws
One of the most important points when driving in Australia is to recognise that although it may seem extremely similar at first, there are many differences that can cause problems to new residents. Similar to the USA, Australian traffic lights go from red straight to green and when stopping, stay on amber for a longer time than their UK equivalents. There are also lights that allow you to turn left on green, even though there may be pedestrians crossing on green at the same time. This can prove to be confusing at first and can be fairly dangerous if you don't pay close attention to it. Also, there are many wider roads than in the UK generally and therefore there are more lights that have right turn only arrows.
The highways are fairly similar to the UK, although UK drivers may be surprised to find that many Australian drivers will overtake in the left lane, even though this is illegal. There are many new signs to learn in Australia also, but it can be fun to spot the koala, kangaroo and wombat signs.
Speed Limits and Speeding Fines
Speeding in Australia is taken very seriously and you can obtain demerit points that will eventually lead to the loss of your licence. The speed and distance are measured in kilometres so it helps to familiarise yourself with these rather than miles before you go. Cars in Australia will have kilometres on their speedometer and although many people in the UK may struggle at first with these, it soon becomes easy to get used to the feel of the limits. Generally, built up areas will be around 50km per hour, outside these areas is normally 100km per hour and on some highways and freeways it is 110km per hour. There are many stationary speed cameras around as well as mobile radar speed cameras. Most of the time they are well signed, but it is very important to stick to the speed limit in Australia.
Driving Across Australia
If you decide to drive across Australia for an extended period or even a short time, you are likely to notice some unusual interstate rules. In Melbourne for example, there are 'hook turns'; a process where you are allowed to hook around to the right from the left lane. This exists due to the trams in Melbourne and can be a tricky manoeuvre to achieve without practice.
Another important aspect of driving in Australia is to remember that there can be large distances between places and it's handy to always ensure you top up with petrol often and keep your car in a safe and reliable condition. If you follow all these rules, you'll hopefully have no trouble driving as a new resident in Australia.
You might also like...
I am living in the UK for up to a year and need to know if I can use my uk driving license which is a paper one it doesn't expire until 2017 but has the wrong address
chrisw
- 19-Aug-14 @ 10:20 AM
I'm going to australia soon on holiday and plan to drive for a couple of weeks. i've been advised that I need to have my passport and license on me while I drive but my license is the old paper type. is this valid or do I need to upgrade my license.
boab
- 20-Feb-12 @ 3:19 PM
I have sat my driving test twice in the uk but failed, I have been advised to put in for my test again however I am moving to sydney on a years working holiday visa! Am I able to sit my test over there?
jada
- 22-Jul-11 @ 3:05 PM
I am going to australia as soon as I pass my test (I am a uk resident) and I want to drive when I get there as I'm staying for a year on a working holiday visa. I would like to make sure there is no minimum time period you must hold a licence for before driving in australia. Many thanks
Farley
- 16-Mar-11 @ 10:42 PM