Visa Application Information for Australia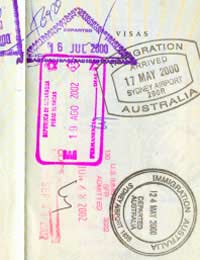 Australia has become one of the foremost countries for UK residents to emigrate to. The combination of better weather a common language and a more laidback lifestyle proves to be extremely inviting for those seeking a new approach to life. Around 13% of people in the UK consider emigrating and within that number around 40% choose Australia as their ideal destination. For those in this position, the most important information you can obtain is what type of visa you can apply for and how to go about doing so.
The Migration Program for Australia
Australian visa classes are split primarily into two main classes – the migration program and the humanitarian program. The migration program includes skilled migrants, business migrants and family migrants, whereas the humanitarian program refers to special eligibility migrants such as refugees.
Within the skilled migrant program there are 5 distinct categories –
Independent Skilled Migrants – people who qualify for an approved Australian occupation and are under 45
Skilled Migrant – people who have close family in Australia that can sponsor them and who are assessed on various qualifications etc.
Distinguished Talent – applies to exceptional people in a limited area
Employer Nominated Migrant – Australian employers nominate someone from overseas to occupy a local job where no Australian is qualified to do so
Regional Sponsored Migration Scheme – an individual will be sponsored to move to a remote area in Australia where their skill is needed.
Within the business migration program there are numerous different avenues in which you can obtain your visa. If you are investing in a new business in Australia you will normally be given a 4 year visa which will be reviewed after this period to ensure your business is applicable for the permanent visa. There are also state and government sponsored business visas as well as visas available for those who already own businesses or are part owners.
The Family Migration Program for Australia
If you have family in Australia you are able to apply to have them sponsor you to become a resident in Australia also. In this instance you won't be assessed on qualifications, but will still need to undergo mandatory health and character checks.There are various migration streams in this visa class:
Partner Visa – Including a spouse, a fiancé or a partner of the same sex, known as interdependency.
Child Visa – Dependent child, orphan or adopted child
Parent Visa – If your child already has permanent residency in Australia, you can apply for it also, but there are few spaces and it can be a lengthy process. There are other options where you can expedite the process by paying a larger fee.
Other Family Visa – former citizens or residents of Australia, carers, aged dependent relative and remaining relatives.
Work Visas and Temporary Visas for Australia
If you wish to gain entry into Australia temporarily, you can apply for a work visa, educational visa and many other subclasses, although a migration agent would be able to advise you further on your personal subclasses.
Visa Application Information for Australia
When you apply for your visa to Australia, you will need to fill out the correct forms, provide proof of identity, qualifications, health checks, character checks, supporting evidence and more. The process can be lengthy dependent on the visa you're applying for, but with the correct information before you begin, it can cut down on delays. Your application will be sent to DIMIA in Australia where it will be vetted and hopefully approved. Once you're aware of the correct application route to take, your process of applying to move to Australia can begin.
Always remember to keep details of dates when you apply for each section and pay close attention to what you're requested to do. Often areas such as the police character checks and the health checks are time sensitive so you must always adhere to the guidelines provided to you by your agent or DIMIA. If you're planning to travel to Australia on holiday from the UK, you will need a visa for entering the country. It is valid for 3 months however you can apply for a long stay visa which is valid for 6 months. Applications are normally processed within 24 hours and your travel agent should be able to advise you on this.
You might also like...