Obtaining More Luggage Allowance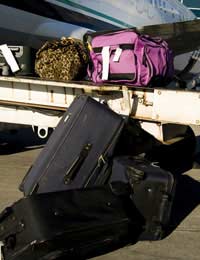 As many people who have emigrated will know there never seems to be the right time to book the cheapest flights and there definitely never seems to be enough space in your suitcases to take everything you want. What most people don't know is that not only can you generally get fairly decently priced flights dependent on when you book, but you can also actually get more luggage allowance.
Cheap Flights and When to Book
For most migrants, it's difficult to know exactly when you should book your flights. Many recommend that you should book as early in advance as possible to get the cheaper flights, yet some prefer to leave it until last minute to book. Whatever decision you make will be based on whether you have to be in your new home by a certain date. Perhaps you're starting a new job, or simply have a rental waiting on you. For some, having the security of knowing exactly when you're going months in advance is what gives them peace of mind. It means you can get everything tied up in the UK and can plan saying good bye to friends and family. If you do book months in advance you will usually get a fairly reasonable fare, but always shop around and if you can get travel agents competing for your business. You may get a better deal this way or even free upgrades. If you decide to leave your flight until the last moment, you may get it cheaper however you run the risk of not being able to get seats together and perhaps not even getting seats at all. It really comes down to whether you wish to take a chance on what is ultimately one of the biggest moments of your life.
Obtaining More Luggage on Your Flight
When you're moving you will realise that even if you've already sent all your boxes abroad, or if you plan to only go with suitcases, you will need as much space as you can get. Normally, when you're leaving the UK on a flight you are entitled to around 20kg of personal luggage. This can change dependent on location and airline, but for most this is fairly standard. If you are travelling to emigrate, you are usually entitled to more luggage allowance and in some cases will be allocated 40kg of personal luggage. This is obviously a huge difference and can be very handy to fit in all those things you're likely to forget you want to take. In order to obtain your larger luggage allowance, you must be travelling on what is known as a 'migrant fare'.
A migrant fare is a one way ticket that is accompanied by an un-validated permanent resident visa. It is very important to ensure that you have some form of written confirmation from the airline you're travelling with regarding your extra allowance. This is just in case the staff at the desk aren't as accommodating and try to charge you for extra luggage. If you can show them a written letter or printed email confirming this, there should be no problems. Extra luggage allowance can be extremely expensive; sometimes hundreds of pounds, so ensure you do this first. Also, if you're on a connecting flight within the UK, make sure you show this confirmation to the staff at your first check in point.
Flights and Luggage
If you can, try to book flights that will book your luggage through all the way to your final destination. This can save any extra stress at connecting airports as often connecting flights will be timed very closely together. If your luggage is booked all the way though, and you're carrying extra, it's easier not to see them until you arrive. It is very difficult to carry 40 kg of luggage per person through a busy airport. If you follow some of these tips, your migrant journey should be fairly hassle-free.
You might also like...
Hi I'm relocating back to the uk .. how can I get extra luggage allowance .. I'm already allocated 30k
Angie
- 1-Jul-18 @ 12:22 PM
Hi I'm emigrating to Australia in October, how much baggage can I take with me on your flight?
Stu
- 26-Aug-16 @ 4:03 AM
Derek - Your Question:
My mother and I are emigrating back to the UK early September. My mother is frail and is permanently on oxygen. Is there any assistance available on the flight ,or should one arrange that with the airline?
---
Our Response:
You should arrange this directly with the airline.
EmigrationExpert
- 19-Aug-16 @ 2:20 PM
My mother and I are emigrating back to the UK early September. My mother is frail and is permanently on oxygen. Is there any assistance available on the flight ,or should one arrange that with the airline?
Derek
- 19-Aug-16 @ 12:03 PM