Exporting a Vehicle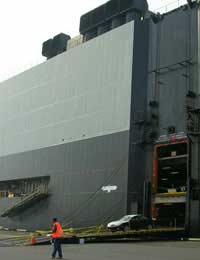 Some people think of their car as their pride and joy. The thought of leaving it behind when emigrating is simply too painful and even when it's cheaper to buy new abroad some simply have to take their car with them. If you're one of these people who perhaps has a classic car, or a car with sentimental value, it is possible to take your 'baby' abroad with you.
Exporting a Vehicle on a Permanent Basis
If you're taking your car with you for a period of over 12 months, you must let the DVLA know of your plans. If you have a V5 registration document then it's fairly simple to let the DVLA know you're exporting your vehicle. All you have to do is fill in section C with the intended date of export and then return this to the DVLA office. If you take it into a local office, then you will often be given the export certificate over the counter. If you send it away, you will receive a certificate of export, also known as a V561 certificate through the post. Obtaining this certificate normally only takes around 2 weeks, if you are the registered keeper of the vehicle. This is the official paperwork needed to take your car abroad and you will sometimes be required to surrender this in your new country. If you have a V5C registration certificate then you need to notify vehicle exports on the purple section. This is what you need to have with you when exporting and you should always keep it handy in case you need it.
Exporting a Vehicle on a Temporary Basis
If you are taking your vehicle out of the country for less than twelve months, this is considered only temporary. In these circumstances, you don't need to fill in any forms; you must however ensure that you take your V5 certificate or registration document with you. Many people will also put a GB sticker on their bumper just so that people are aware that the car is 'foreign'. You are required to do this unless your car has the new Euro plates attached or you're travelling within the EU. It is also important to ensure you have the correct insurance and the car travelling abroad is the right one that is on the paperwork. The chassis number and all other details must be correct.
Your Vehicle Export and Your New Country
In many countries, you will need to obtain an import permit to allow your vehicle entry. You will often need to pay customs duty, GST and luxury car tax where applicable. In some countries your car will need to pass through strict quarantine laws and of course a vehicle inspection. It can be very expensive and laborious to export your car and getting it can take quite some time. You will also need to pay a shipping company to get your car abroad if you are travelling overseas where there is no way of driving it across. Again, this can be expensive, but if you truly love your car this is the only way of taking it with you. It certainly is cheaper to simply buy new, however exporting it can be done as long as you obtain the correct paperwork and ensure it's all correctly handled by a professional company.
You might also like...